Nursery School of Sanctuary
Nursery School of Sanctuary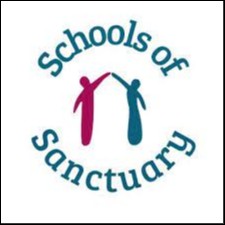 We have begun our journey to become a Nursery School of Sanctuary. This initiative involves us really looking closely at how we welcome and engage with families who are coming into our school. We are one of only eight nursery schools across Northern Ireland who have been invited to take part and, if we are successful, will be accredited in June.
As part of this program we are developing new, more user friendly, welcome booklets for families starting the school. We are also making a huge effort to incorporate different cultures, languages and religious celebrations into our curriculum. Our children's learning will be enriched by exposure to and enjoyment of the cultures that are different to their own.
We have also begun to 'Green up' our new outdoor canopy area in order to create a 'Garden of Sanctuary.' This area of our playground had long been very 'bare' and uninviting. It is being transformed into an area full of colour and beautiful scents from the flowers and herbs we have planted. We have also installed a 'Teepee' for our children to have a quiet area, an area of sanctuary, in our busy playground.
Finally, we have been able to offer an Air fryer cooking programme which is due to begin in May. It aims to give parents a place to meet and get to know each other whilst learning something new.
Bligh's Lane Nursery School, Bligh's Lane, Derry BT48 9PJ | Tel: 02871 267603