Eco-Schools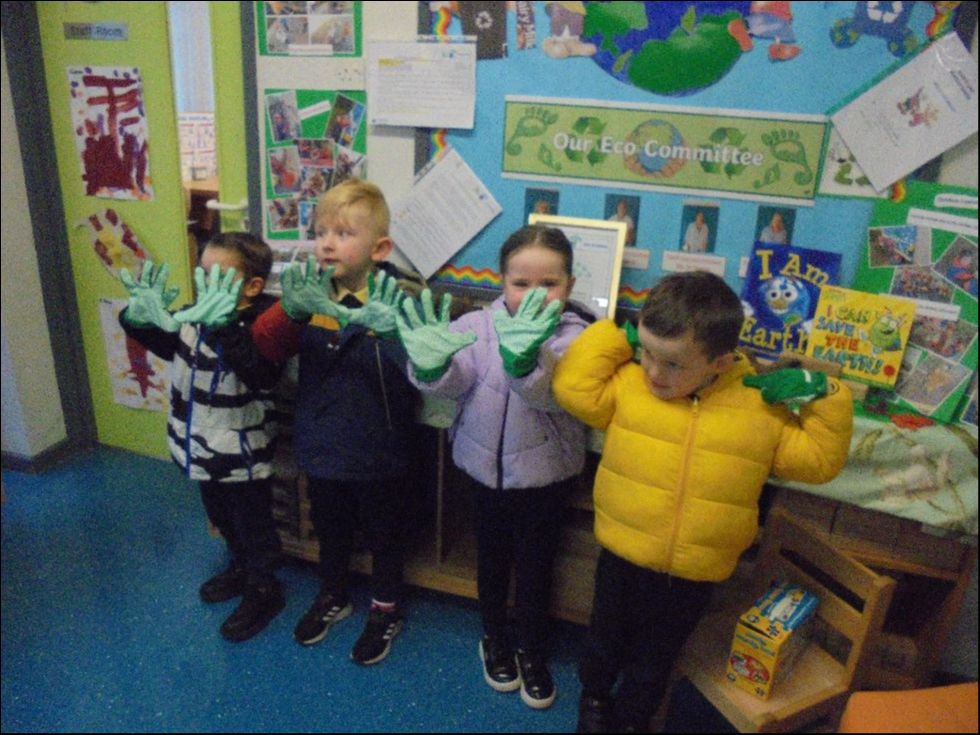 Circle Time - Litter/Waste
Visit from Julie Hannaway
Our new Water Butt! has been delivered by NI Water!!
Apple juice - pressing apples with Gareth Lamrock our Eco-schools field officer!
Visit to the Fairy Trail at Ballymagowan Allotments!
Ballymagowan Allotments!
Thank you Jane, for showing us your winter vegetables!
Our Eco-Schools mascot! - 'Clean Chase' joins Bligh's Lane Nursery School!
Our Eco journey started in September 2021, led by Mrs Deirdre Doherty and supported by our Eco committee which comprised of teaching and non-teaching staff and parents. Children from both classrooms also represent our school Eco Club but all children are active and equally involved.
To date we have covered the topic of Litter and Water, which has led us to achieve Bronze status. We also have been focusing on The Outdoor Classroom/environment; Waste and Biodiversity and achieved the Silver status in March 2022.
Our Eco-Schools mascot has finally arrived and now takes pride of place in the Shared area beside our noticeboard and welcomes our little Eco-warriors as they arrive into nursery each morning! 'Clean Chase' will now be popping up in lots of photos and projects going forward as we continue on the road to achieving the Green Flag status for our wonderful Nursery School!
Circle Time with Mrs Doherty - October 2021
Today both classes joined Mrs Doherty to learn about Litter/Recycling and to meet the Bligh's Lane mascots 'Clean Chase' and 'Rubbish Rubble'. The children lerant the importance of keeping their school grounds clean and tidy while recycling litter correctly! Mrs Doherty set up an Eco Club and also introduced the large 'Clean Chase' plush toy mascot to sit pride of place beside our Eco-Schools display board in the shared area of the school.
Apple Juice - with Eco-Schools Field Officer - Gareth Lamrock - October 2021
A great end to Term One today! as the children participated in apple pressing to make their very own apple juice using the apples which are growing in our orchard in the secret garden!! We are blessed to have the most wonderful and ripe apples growing at this time of the year and of course there is no better way to harvest these fruits than to make our own Apple Juice!
Thank you to Gareth for coming into our school today to demonstrate how the Apple Press works and for inviting the children to help him in pressing the apples!! Lots of smiling faces all around and empty cups as the children asked for seconds after tasting the sweet apple juice!! What a way to celebrate Halloween than to dress-up and bring their very own juice to the Bligh's Lane party!!
Check out the photo's on the slideshow and i'm sure you will agree that the apple juice went down a storm!!!
Visit from Julie Hannaway - November 2021
A big thank you to Julie Hannaway (Waste and Recycling Officer) from Derry City & Strabane District Council for taking the time to talk to the children today about Litter/Waste. The children really enjoyed Julie's story on the importance of waste recycling and the fun characters which they were introduced to! We are so proud of our young Eco-Warriors who answers lots of really hard questions correctly and talked about all the fun things they are doing to keep their school clean and tidy, including designing their very own Monster themed bins!!!
Delivery of our new Water Butt!!
A big thank you to Anna Killen from NI Water - for delivery of our new water butt!! We are super excited to use this valuable resource to help us in recycling rain water and offer children fun-filled experiences at our new the water wall in our super 'Outdoor Classroom'! We have the outdoor suits and wellington boots ready and waiting!
Look out for more photos of our Water Wall in our curriculum page!!!
Trip to Ballyamgowan Allotments - January 2022 (Class 1)!
Mrs Doherty/Mrs Woods class spent a special morning at Ballymagowan Allotments. We saw many winter vegetables being grown including onions and brussel sprouts! Thank you to Jane who showed us around her very own allotment and prize wining vegetables, including onions/garlic and kale to name a few! The children were in awe of the huge onions being grown and smell of garlic on their hands! We finished our morning with a trip to the local play park to keep warm and run around! We are privileged to have such wonderful facilities within a short distance of the Nursery School to enable us to enrich the learning experiences of our little ones!
We will take back all the wonderful tips and knowledge shared with us by local allotment owners, and look forward to sharing news and photos of our very own vegetable patch on the grounds of our wonderful nursery school! Watch this space!!
March 2022 - Planting Seeds!!/Biodiversity!
This month we are focusing on the topic of Biodiversity and our little stars have been busy planting vegetable seeds including onion, cabbage and lettuce alongside their broad beans which they will look after over the next few weeks by watering them each day and watching their own individual beanstalks grow taller and taller into the sky!! There were lots of green fingers in our Nursery school this week!
TRIAX Neighbourhood Management Team - February/March 2022
A big thank you to TRIAX!! in Creggan neighbourhood partnership for restoring our unused Garden and planting space!! They have engaged with us and became involved in environmental improvement schemes to enhance our biodiversity space in our outdoor garden! A major focus of this work was to improve the physical appearance of area which is the first initial space visitors/adults/children meet as they arrive into Bligh's Lane Nursery School alongside the maintenance of our garden. The team worked tireless over three days to build raised beds for planting vegtables and upgraded one of the beds which was in total disrepair!! They also completed exterior painting and a general spring clean-up! We arextremely grateful for their on-going support and commitment to improving our outdoors whilst enhancing the opportunity to introduce children to the natural environment and biodiversity. They have offered a fantastic facility for outdoor education that can complement classroom-based activities.
Wee Critters - March 2022
Thank you to Alan from Wee Critters who visited our Nursery School day with lots of wonderful little critters! Lots of brave little stars today who held and touched many of the interesting and beautiful creatures!
Anna Killen - NI Water -May 2022
Anna Killen from Northern Ireland Water visited the Nursery School today to discuss the conservation of water! She talked to the children about the importance of not wasting water in our homes and the rain water cycle! The children all received their very own water bottles to take home along with a little sand-timer to remind their mummy's and daddy's about the importance of conserving water not only in the bath/shower but also when washing their cars/watering plants etc. The children explained that we recycle the rainwater in school and use it at our water wall and to water the vegetables in the new raised beds/vegetable plot!
June 2022
The children finally saw the fruits of their labour in the growing beds this week! They dug up potatoes and onions and picked their very own strawberries!!Lots of smiling faces and tasting buds at the ready!!! The children's faces lit up as they harvested their crops and were super excited to share their news with their mums and dad's at home time!!!
September 2022
It's the start of a new academic year and lots of work has already began on our Eco Garden and Green spots within the Nursery School. Today, we had a visit from Gareth Lamrock our link officer from Eco-Schools who shared lots of information and contacts to support us in continuing towards our Green Flag application. Thank you, as always to Ms Henry to utilised her many talents to create a wonderful Bug Hotel - re-using old pallets and reclaimed bricks alongside twigs, foliage and leaves to name only a few of the variety of resources she used to create her finished masterpiece! The photo's speak for themselves and we are delighted with the finished product, now it awaits a roof but fingers crossed we will complete this in the coming days and again upload our finished hotel which will be home to many creatures great and small!!!
September 2002
Room 1 had a wonderful Circle Time session today with Mrs Doherty who introduced them to two new characters 'Clean Chase' and 'Rubbish Rubble'. The children loved these new familiar faces and were excited to learn about their new roles in helping the Paw Patrol characters to sort out the rubbish in Nursery School. They also learned the sorting rubbish tune and sang along as they learned about a very important word 'Recycling'! We will be giving out the special Eco badges to children from next week who will take charge of emptying the blue and brown bins each day, with Mrs Meehan and Ms Mc Gilloway! They will each visit the eco-garden to dump leftover food into out big compost bins!! and then the big recycling bins to recycle cardboard and paper etc. Look out for special photo's of the children carrying out these very important jobs!
Bligh's Lane Nursery School, Bligh's Lane, Derry BT48 9PJ | Tel: 02871 267603